Auburn Courts
Chaska
Assisted Living
About Auburn Courts
Auburn Courts offers assisted living services and home care in private apartments that are just like home. Each apartment includes a kitchenette and walk-in shower. Our comfortable living spaces are ideal for seniors who wish to maintain a sense of independence, but desire the security of knowing that skilled staff are available around the clock. With social activities and a cozy setting, it's perfect for seniors.
Features, Benefits, Services
Flexible Approach
Auburn Courts offers a distinct blend of independence and support to accommodate a wide variety of lifestyles and needs.
Daily reassurance checks
Medication management
Registered Nurse on site Monday through Friday
Registered Nurse on call
Care attendant on site 24/7
Staff listens and responds to individual needs
Neighborhood Meals
Each area of Auburn Courts has its own dining room, to enjoy intimate, family style dining with neighbors.
Private Living Spaces
Studios and 1- or 2-bedroom apartments
Utilities included, except phone
Personal emergency call system
Light weekly housekeeping
Free basic cable and wireless internet service
Life Enhancement Activities and Events
Coin-operated laundry facilities on each floor
Dedicated Staff
The staff at Auburn Courts is dedicated to providing personal care based on each person's individual needs. Our mission is based on helping residents maintain the greatest possible physical health and emotional well-being. The experienced staff provides professional and spiritual care and their goal is to keep you or your loved one as independent as possible.
Auburn Courts is home to the Courtyard with specially designed activities and assistance for those coping with memory loss. Also located on the Auburn campus is Auburn Manor, a skilled nursing facility with rehabilitation services.
Confident Choices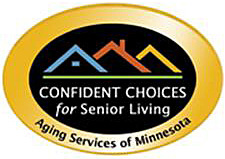 Confident Choices is an innovative and nation-leading quality designation program, the first of its kind to evaluate and recognize senior living providers in Minnesota that exceed expectations to deliver the highest in quality residential services for older adults.
Confident Choices, which received an Award of Excellence in 2013 from the Midwest Society of Association Executives (MSAE), serves as a valuable consumer tool to help navigate the marketplace of senior housing and assisted living. Its seal reflects higher standards of quality, ethical conduct, consumer satisfaction, innovation, creativity and professional excellence. Applicants are subject to an independent third party site review before being approved and must renew the designation every two years.
Auburn Courts had been renewed by Confident Choices for 2017.