Ageless Endeavors
Donate Now
Living Life with Purpose and Passion
Ageless Endeavors is a program designed to make wishes come true for residents at Auburn Homes & Services. Ageless Endeavors encourages residents to live life with purpose and passion. The program gives residents the opportunity to fulfill a meaningful experience from their past or a future goal to be achieved.
Examples of Ageless Endeavors experiences may include:
Outdoor Activities
Creative Interests
Sporting Events
Exciting Adventures
New Hobbies
Nominations
Families, staff and volunteers can nominate residents to be part of the Ageless Endeavors experience. Please fill out the application below to nominate a resident.
Our Ageless Endeavors Stories
A Special Lunch
Auburn Homes & Services Ageless Endeavors program continues to make wishes come true for residents. With the Ageless Endeavors program, Mary Steffen was able to enjoy time with her son from Texas.
Steffen talks to her son, Kurt, on the phone every day. Kurt lives in Texas and is not able to make the trip to Minnesota very often. Health constraints make it difficult for Mary to travel long distances or be away from her home at Auburn for an extended amount of time.
Ageless Endeavors created the opportunity for Mary and Kurt to enjoy a special lunch at Lola's Lake House in Waconia. Mary was dressed in her best and Kurt surprised her with fresh flowers and Nut Goodies, her favorite candy. Auburn provided transportation and chauffeured Mary and Kurt to Lola's for a mother and son lunch together. Mary could not stop smiling.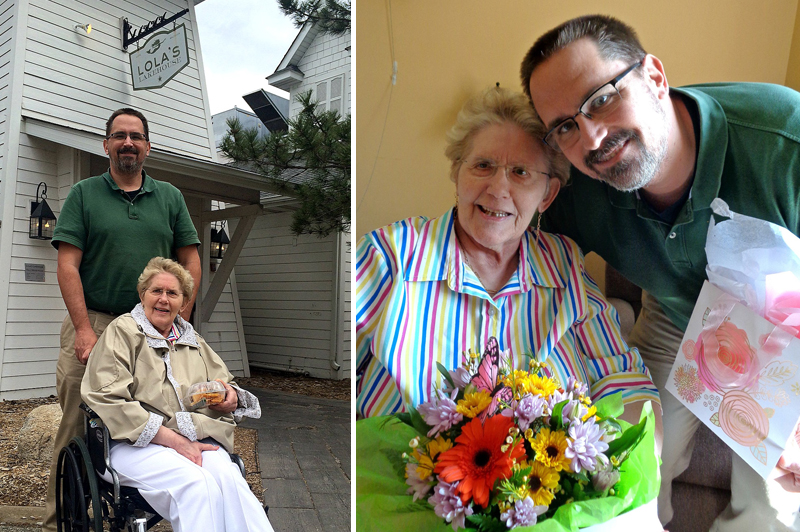 Attending a Vikings Football Game
Through the Ageless Endeavor program, Lisa Panning, care attendant at Auburn Meadows Assisted Living in Waconia, nominated resident George Schmitt on his aspiration to attend a Vikings home football game.
On December 30, 2018, George and his special guests, niece Heather Miller and nephew Mathew Anderson, attended the Minnesota Vikings vs Chicago Bears game at US Bank Stadium. George and guests were chauffeured to US Bank Stadium courtesy of Auburn Homes & Services van and driver Nick Kauphusman. After arriving, they were escorted down onto the field to watch the Viking's players warm up for the big game. George wore his new Adam Thielen jersey as part of the experience to celebrate the day. "This is a day I'll never forget" stated George. While the Vikings did not come out victorious – they lost 24-10 – George enjoyed the tasty treats at US Bank Stadium and an extraordinary afternoon.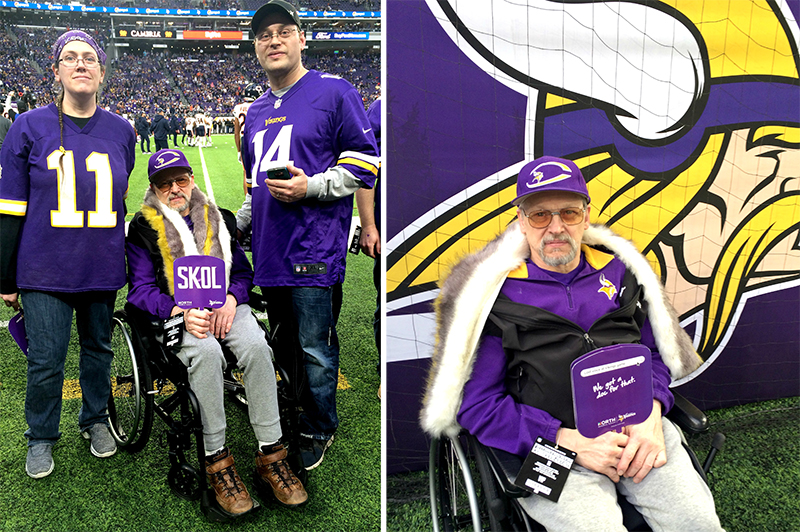 Family Tea Tradition
With the Ageless Endeavors program, Winifred "Winnie" Michel was able to experience a long-standing family tradition. Winnie's mother would celebrate special occasions with a cup of tea and the tea tradition has trickled down each generation including Winnie's great granddaughters.
The women in Winnie's family have been going to afternoon tea at the St. Paul Hotel for years. It has been ten years since Winnie was able to join her family for their traditional tea. She will be turning 99 this October and was not sure she would be able to make the trip. While Winnie says she enjoys her life at Auburn, she has not been out of the building for two years except to see the doctor.
With the help of her family, the staff at Auburn Homes & Services and the Ageless Endeavors program, Winnie was able to sip afternoon tea at the St. Paul Hotel with four generations of women in the Michel's family.