COVID-19 (Coronavirus) Community Information
Dear Family and Friends of Auburn Homes & Services:
With the potential spread of COVID-19 (coronavirus) in our community, we have had to make some difficult yet necessary decisions regarding residents at Auburn Homes & Services. Ensuring our tenants and residents are cared for in a safe and healthy environment is our number one priority. At this time, we do not have any cases of coronavirus at any of our Auburn Homes & Services locations. However, due to a confirmed case of Coronavirus (COVID-19) in Carver County, the Centers for Medicare and Medicaid Services (CMS) recommends Auburn Homes & Services restrict visitors at this time. We are taking these precautions to help ensure the health and safety of all and remain focused on providing exceptional care and services for our residents. Additionally, we ask for your help in battling COVID-19 and keeping the virus out of our community.
At this time, we request that family and friends do not visit our campuses. We are posting signs on our entryway doors to notify visitors of this policy and actively screening individuals, including staff, who need to enter our buildings. We understand that connecting with your loved ones is incredibly important. There are a variety of other ways for you to consider communicating with family members, including telephone, email, text, video chat or social media.
Please make sure we have your most current emergency contact information including your email address. We want to ensure we efficiently communicate with you should there be any new developments. You can email this information to Michelle Yelich, Marketing and Community Outreach Manager for Auburn Homes & Services, at myelich@auburnhomes.org. Michelle will be working with staff to update our residents' family and emergency contact information.
We have asked employees, tenants and residents to please help prevent the spread of infection by exercising proper hand washing hygiene as well as coughing and sneezing etiquette. We are also encouraging everyone in our community to avoid shaking hands and hugging individuals.
If you are experiencing a cough, fever, sore throat, runny nose, and/or shortness of breath, please contact your physician or let a staff member know immediately.
We are monitoring the CDC's recommendations hourly as they may continue to change. In addition, we are in close contact with the Centers for Medicare and Medicaid Services (CMS), and the local and state health department, and we are following their guidelines.
We will notify you if any tenant, resident or staff is diagnosed with COVID-19. Should you have any questions, please feel free to contact us.
For additional information, please visit the CDC's coronavirus disease information page: https://www.cdc.gov/coronavirus/2019-nCoV/index.html
Why Restrict Individuals from Entering our Building?
The current COVID-19 outbreak situation means that it is critical that we take every precaution possible. We must prevent this virus from entering our communities. Protecting our residents' health and safety is our top priority.
The CDC has done a careful review of the death rate in the elderly, especially those with dementia or chronic diseases. Experts are recommending we take action to limit individuals from entering our building.
There is a risk that people who appear healthy will enter skilled care centers and assisted living communities and infect residents. Studies have shown the sooner we limit interactions with others and use good hand washing etiquette, the slower the virus spreads. These facts have led to the recommendation of restricting visitors at this crucial time.
We hope this information is helpful and gives you a better understanding of why we have implemented a restriction on visitors. Our residents' health and safety is our top priority and we are taking precautions to protect our residents.
We will be updating this page as needed; you can also refer to our home page "News and Updates" section for any new information. Also, please feel free to contact Rick Krant at 952-361-0340 for skilled nursing questions and Alicia Hilk at 952-361-0307 for assisted living questions.
Are you a sewer and looking for a way to donate to AHS?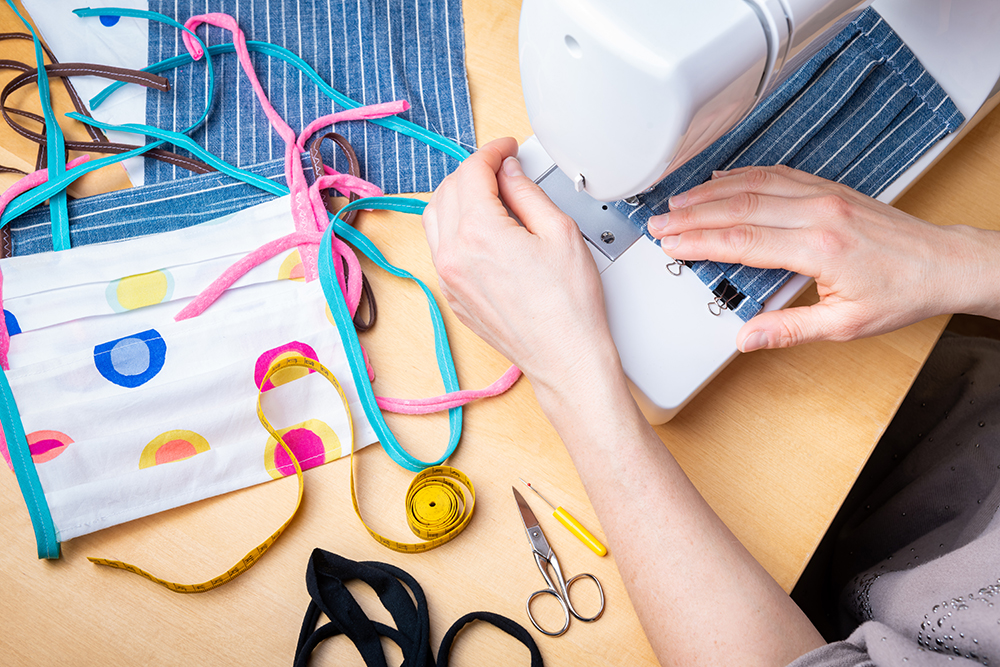 We are so grateful for the donations we have received for our beloved residents at both our Chaska and Waconia locations. The support we have received from our communities has been wonderful and along with our residents, we are grateful for these acts of kindness.
We continue to graciously welcome donations of hand sanitizers and disinfectant wipes, but we've also found that many are asking if we will accept hand sewn masks and do we have directions for them…well, the answer is yes and yes! For all the sewers out there that would like to donate hand sewn masks, below are some links with instructions and the best material to use.
Please drop off all donations at the front door of Auburn Homes & Services in Chaska and at The Meadows in Waconia. Again, we cannot thank our communities enough for the support and love we have received during these unprecedented times.
Here is a link on how to make a face mask: https://www.allinahealth.org/-/media/allina-health/files/mask-sewing-how-to.pdf
What's the best material to use for a face mask? This link will tell you: https://smartairfilters.com/en/blog/best-materials-make-diy-face-mask-virus/
*Please note that all donated hand sewn masks will not be used in place of PPE and will be only used in conjunction with CDC guidelines.