COVID-19 (Coronavirus) Community Information
Dear Family and Friends of Auburn Homes & Services:
With the potential spread of COVID-19 (coronavirus) in our community, we have had to make some difficult yet necessary decisions regarding residents at Auburn Homes & Services. Ensuring our tenants and residents are cared for in a safe and healthy environment is our number one priority.
Auburn Homes & Services has identified a confirmed, positive case of coronavirus COVID-19 in one staff member. This staff member has not worked or been on either of Auburn's two campuses for over 30 days.
Message from Mike Senden, CEO of Auburn Homes & Services:
"We are doing everything we can to stop the spread of this virus within our community. We continue our emergency response plan with heightened infection control protocol and are working in partnership with the Minnesota Department of Health and Carver County Public Health to ensure we are taking the appropriate measures at this time. Auburn Homes & Services is working closely with other health care providers in the area to help ensure the health and safety of all. As we navigate this challenge, we are especially grateful for our dedicated caregiving team who are working tirelessly to ensure a clean, safe environment for all who live and work at Auburn Homes & Services. We remain focused on providing exceptional care and services for our residents."
At this time, we request that family and friends do not visit our campuses. The Centers for Medicare and Medicaid Services (CMS) recommends Auburn Homes & Services restrict visitors at this time. We are taking these precautions to help ensure the health and safety of all and remain focused on providing exceptional care and services for our residents. Additionally, we ask for your help in battling COVID-19 and keeping the virus out of our community. Signs are posted on our entryway doors to notify visitors of this policy and we are actively screening individuals, including staff, who need to enter our buildings. We understand that connecting with your loved ones is incredibly important. There are a variety of other ways for you to consider communicating with family members, including telephone, email, text, video chat or social media.
Please make sure we have your most current emergency contact information including your email address. We want to ensure we efficiently communicate with you should there be any new developments. You can email this information to Michelle Yelich, Marketing and Community Outreach Manager for Auburn Homes & Services, at myelich@auburnhomes.org. Michelle will be working with staff to update our residents' family and emergency contact information.
We have asked employees, tenants and residents to please help prevent the spread of infection by exercising social distancing and proper hand washing hygiene, as well as coughing and sneezing etiquette.
If you are experiencing a cough, fever, sore throat, runny nose, and/or shortness of breath, please contact your physician or let a staff member know immediately.
We are monitoring the CDC's recommendations as they continue to change. We are in contact with the Centers for Medicare and Medicaid Services (CMS), and the local and state health department, and we are following their guidelines.
For additional information, please visit the CDC's coronavirus disease information page: https://www.cdc.gov/coronavirus/2019-nCoV/index.html
Why Restrict Individuals from Entering our Building?
The current COVID-19 outbreak situation is critical and we are taking every precaution possible to prevent this virus from entering our communities. Protecting our residents' health and safety is our top priority.
The CDC experts recommend we restrict individuals from entering our buildings. There is a risk that people who appear healthy will enter skilled care centers and assisted living communities and infect residents. Studies have shown the sooner we limit interactions with others and use good hand washing etiquette, the slower the virus spreads.
COVID–19 FAQs:
Q. What is Auburn Homes & Services (AHS) coronavirus (COVID-19) protocol?
A. AHS practices procedures to prevent and limit the spread of infectious diseases on our two campuses in Chaska and Waconia. Every AHS staff member is trained on these procedures and our employees have successfully demonstrated infection control practices.
To specifically address COVID-19: Our team is regularly reviewing information from the CDC, MDH and CMS, and working with the local health department.
AHS staff are educated on the symptoms of COVID-19 and other respiratory illnesses.
All residents and staff reporting symptoms of COVID-19 are immediately put on isolation precautions pending the results of testing and until cleared by medical professionals.
In addition to maintaining standard practices for good hygiene and infection control, AHS communities have been and continue to increase disinfection of frequently touched objects and surfaces.
Residents are encouraged to practice social distancing and remain in their apartments when possible.
Care staff are monitoring the health of residents in our care.
Educational material has been provided to residents and staff regarding important infection control measures.
Hand washing stations and/or sanitizer dispensers are at all AHS entrances and throughout the buildings.
All employees are being screened before entering the building (temperature check and completing a symptom checklist) and are wearing face masks and eye protection.
AHS continues to communicate reliable and verified information to staff, residents, families, and the public through our website, email and/or print notifications.
Q. Are you testing all residents and employees in MN?
A. The Governor and Minnesota Department of Health (MDH) have shared their new 5-point plan for protecting long-term care residents and workers, including increased testing. We are awaiting rollout and timeline details and will share updates when they are made available.
Q. Can I visit the community?
A. We are following guidance from the Centers for Medicare and Medicaid Services (CMS) to restrict all visitors, volunteers and vendors to only essential visits, such as end-of-life or required care and services. Such visits will be limited to minimize potential exposure.
Q. Are you accepting new residents?
A. At this time, we are allowing critical assisted living and memory care move-ins with guidelines and move-in procedures in place to ensure the health and safety of our communities. We continue to accept new admissions in transitional care and long term care with appropriate health screening, following the lead of the CDC. All new residents are being put on self-isolation precautions to ensure they are free of symptoms.
Q. Can I take a tour of a community?
A. We are not offering in-person tours at this time. As an alternative, we encourage you to contact our housing managers or social services directors for more information. Please call 952-448-9303 and we will direct your call.
Q. Will I be notified if there is an outbreak at an AHS community?
A. In the event of a positive COVID-19 test result, we will notify residents, staff, and family contacts.
Q. How is Auburn handling the supply and staffing needs?
A. Our AHS leadership team meets routinely to closely monitor our supply and staffing needs; we continue to work with our vendors and the local and state health department to obtain necessary supplies and ensure adequate staffing needs are met.
Q. What can I do to help?
A. You can be helpful in the following ways:
Stay healthy and prevent spreading germs by following recommended actions: wash hands frequently; avoid touching eyes, nose and mouth with unwashed hands; cover your mouth and nose with a tissue when coughing or sneezing and dispose of all used tissues; avoid contact with people who are ill.
Stay in touch with your loved one by phone, text, email, Zoom or other forms of communication that do not require physical proximity.
Donations of hand sanitizer, handmade cloth facemasks and other items are welcome; please visit our Amazon Wish List for more ideas.
Please keep AHS residents and staff in your thoughts and prayers.
Q. Where can I find more information about COVID-19?
A. There are many resources available:
For mental health concerns, please call 911 or the Carver County Mental Health Crisis Program at 952-442-7601, 24 hours, 7 days a week, or during business hours to reach the Carver County Mental Health Crisis Program call 952-442-4437. Another option is the Substance Abuse and Mental Health Services Administration (SAMHSA) Disaster Distress Helpline at 1-800-985-5990 or text TalkWithUs to 66746 to connect with a trained crisis counselor.
We hope this information is helpful and gives you a better understanding of why we have implemented a restriction on visitors. Our residents' health and safety is our top priority and we are taking precautions to protect our residents and staff.
We will be updating this page as needed; you can also refer to our home page "News and Updates" section for any new information. Please feel free to contact Michelle Yelich at 952-361-5076 with questions or concerns.
Handmade Face Masks, Scrub Hats and Caps Needed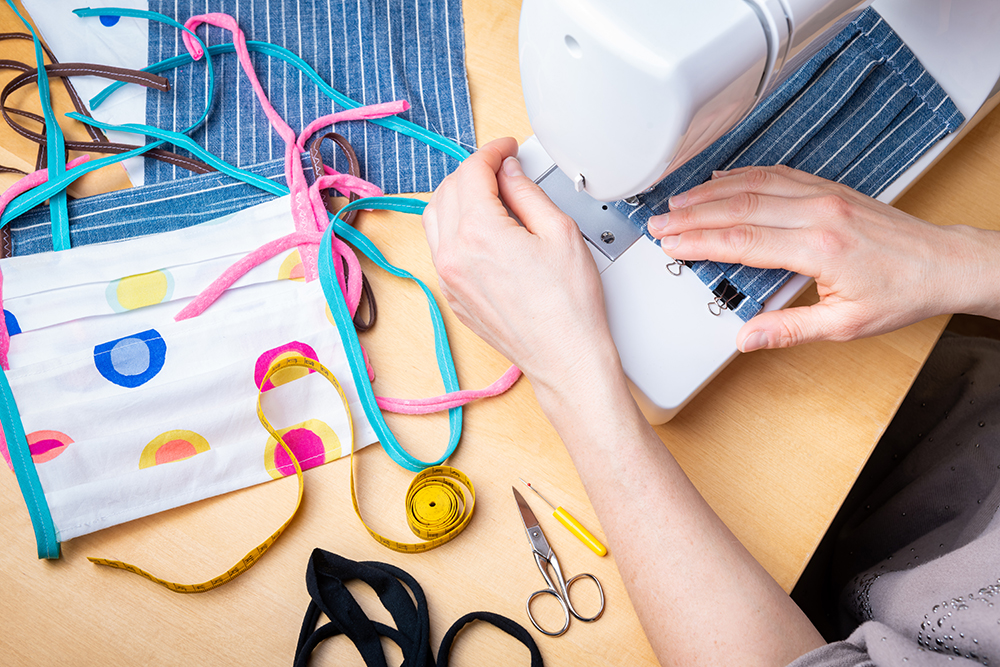 We are so grateful for the donations we have received for our beloved residents at both our Chaska and Waconia locations. The support we have received from our communities has been wonderful and along with our residents, we are grateful for these acts of kindness.
We continue to graciously welcome donations of hand sanitizers, disinfectant wipes, and cloth handmade face masks, but we've also found we could use handmade scrub hats and caps. Below are links with instructions and the best material to use to sew cloth facemasks, scrubs hats and caps.
Please drop off all donations at the front door of Auburn Homes & Services in Chaska and at The Meadows in Waconia. Again, we cannot thank our communities enough for the support and love we have received during these unprecedented times.
*Please note that all donated hand sewn masks, hats and caps will not be used in place of PPE and will be only used in conjunction with CDC guidelines.