Auburn Home in Waconia
Skilled Nursing Care & Rehabilitation
About Auburn Home in Waconia
Auburn Home in Waconia is known throughout the community for providing loving, affordable care to seniors and their families. We are a skilled nursing facility with rehabilitative services including physical, occupational, and speech therapy that enable many residents to return home.
Auburn Home's mission is based on the principles of dignity, choice, care and concern. These principles are evident in the many services offered. From the moment you walk in the door, you and your loved one become part of our extended "family". Our experienced staff provides a high degree of professional and spiritual care and our goal is to keep you or your loved one as independent as possible with dignity and hope.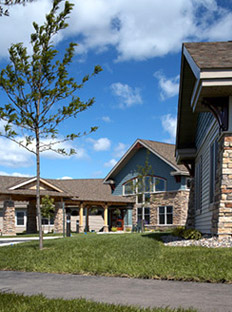 Features, Benefits, Services
We designed Auburn Home in Waconia to look and feel just like a family home. We have three separate households — Lake, Island and Elm — each with its own dining room, gathering spaces, laundry and private resident rooms.
Auburn Home's households operate independently of each other, offering short-term residents living in Lake Household the opportunity to all dine and socialize together, with other short-term residents, to share their similar experiences. Our Island and Elm households are for long-term residents.
We hope you will stop by for a visit and enjoy a cup of coffee with us in our new home!
We accept Medicare, Medical Assistance and major insurances.
Comfortable Transition
At Auburn Home in Waconia, you'll receive an individualized treatment plan created just for you. Highly specialized, dedicated staff will work to maximize your flexibility and mobility and send you home as soon as you're ready. We provide a full compliment of state-of-the-art physical, occupational and speech therapies:
Resistive exercise for strength and endurance
Transfer and gait training for optimal mobility
Activities of daily living skills
Pain and wound care management
24-hour nursing staff
Our team of specialized nurses and therapists consider you part of their extended family. With private rooms and showers, delicious meals, free wireless internet services and room for visits with your own family, Auburn Home in Waconia is the best place to receive rehabilitative care after your hospital stay.
When we say we offer "all the comforts of home," great meals are a big part of the overall experience at Auburn Home in Waconia. Our dietary staff will help you create a customized food plan for every type of dietary consideration — with tasty choices for meals and snacks.