Auburn Home in Waconia
Skilled Nursing Care & Rehabilitation
About Auburn Home in Waconia
Auburn Home in Waconia offers skilled nursing care with rehabilitative services including physical, occupational and speech therapy. Our cozy, family-like atmosphere creates a comfortable short-term transition from hospital to home. From the moment you walk in our door, you and your loved one become part of our extended "family." The staff at Auburn Home provide professional and spiritual care and our goal is to keep you or your loved one as independent as possible.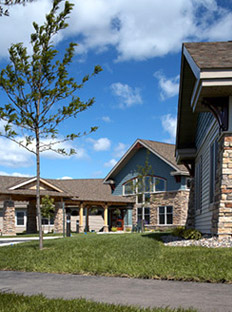 Features, Benefits, Services
Auburn Home in Waconia is designed to look and feel just like home. Each household has its own dining room, gathering spaces, laundry and private resident rooms.
Each household operates independently, offering short-term residents the opportunity to dine, socialize and share a similar experience. Long-term residents are able to participate in life enhancement activities, share stories and dine together with their neighbors.
We accept Medicare, Medical Assistance and major insurances.
Comfortable Transition
At Auburn Home in Waconia, you will receive an individualized care plan created just for you. Our dedicated staff will work to maximize your flexibility and mobility and send you home as soon as you are ready. We provide physical, occupational and speech therapies:
Resistive exercise for strength and endurance
Transfer and gait training for optimal mobility
Activities of daily living skills
Pain and wound care management
24-hour nursing staff
Auburn Home offers private rooms and showers, delicious meals, free wireless internet and comfortable spaces to visit with your family and friends. When we say we offer "all the comforts of home," great meals are part of the overall experience at Auburn Home in Waconia. Our dietary staff will help create a customized meal plan for many types of dietary considerations.